Bute Produce
Located at Ashfield, opposite Rothesay Joint Campus, Bute Produce is a market garden committed to growing local produce. The project began in 2008 and its official opening was in September 2009. The site stretches over 6 acres and there are 4 acres currently in use, with plans to develop an orchard and other projects on the remaining land.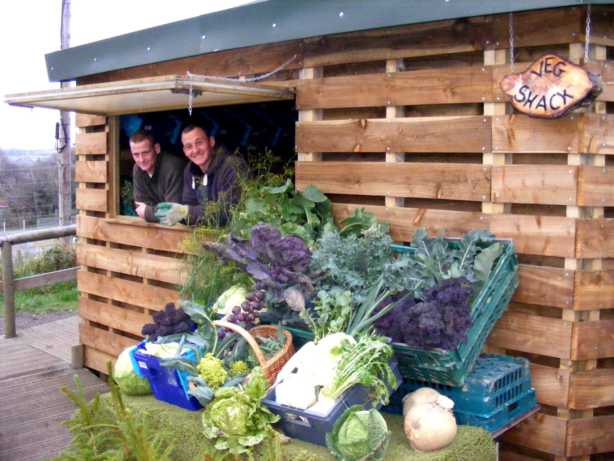 Bute Produce not only aims to provide local, affordable produce for the island but also hopes to help reduce local carbon emissions. Food miles contribute to approximately 3.5% of all Greenhouse Gas Emissions and thus, by reducing how far our food has to travel, Bute Produce is helping to make the island more energy efficient.
There have been many developments within the garden, including the erection of the first approved wind turbine on Bute. Christened "Jenny the Generator" by pupils at Rothesay Primary School, the turbine is a 15m 6kw proven system which generates approximately 12000 kwh per annum. This means that it can generate enough energy for the garden plus surplus energy that can be directed back to the grid.
As a means of promoting local produce the project introduced a Green Box Scheme which is proving to be very successful. We have recently extended the popular green box service to include a bespoke option. The bespoke service will allow customers the freedom to select the specific items they would like delivered each week, to suit the size and tastes of any household. Furthermore, we recently opened the Veg Shack on site to make customer visits more convenient. We invite all customers to come and view our range of local, fresh, organically grown produce and the Veg Shack will be best stocked on a Thursday afternoon and a Friday.
Our children's club, the Ferry Berry Club regularly carries out a number of garden workshops which are always thoroughly enjoyed by our members!
For more information on any of the services provided by Bute Produce, please call our office on 01700 503181.

Look at our funders page to find out more!