Our Projects 2014/15
In support of our charitable aims, we undertake special projects.  Keep up to date with these projects here.  If you would like to get involved in any of these projects, please get in touch.  01700 503181
Bute Energy Audit
Scottish Islands Federation (SIF) leads participation of 10 Scottish island communities in the SMILEGOV initiative, which brings islands together from Europe's Atlantic, Baltic and Mediterranean regions to share challenges and expertise concerning Island Energy Projects.
In consultation with Community Energy Scotland, SIF last year initiated and coordinated a project to facilitate preparation of energy audits by each participating Scottish island, to provide baseline data to inform more effective island energy planning.
We were delighted to be commissioned to undertake the Bute audit, with other audits conducted for Arran, Cumbrae, Gigha, Iona, Lismore, Luing, Mull and the Small Isles.
Thank you to all those who contributed to the content of the report which can be viewed here.  1.11.14 Island Energy Audit Bute v0.2   This version has confidential and commercially sensitive information removed as per our agreement with contributors.  Should you have any queries about the audit, please email reeni@tzcb.org.uk
Healthy Eating on a Budget in collaboration with Bute Advice Centre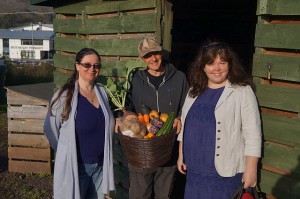 An eight week pilot to explore how Grow Your Own Vegetable can empower people to live more sustainable and address issues of food poverty.  The project is funded by Argyll & Bute Council and Bute Health & Wellbeing Network, with benefit in kind contribution from Fyne Futures and Bute Advice Centre.
Click here for information about
Healthy Eating on a Budget Award Press Release 260914 v0.3
This project was completed successfully.  To read evaluation report please click Evaluation Report Grow Your Own Edited.
Heritage Horticulture Training Centre and Seed Bank
Fyne Futures Bute Produce has received £60,900 from the Heritage Lottery Fund (HLF) for an exciting project, Bute Heritage Horticultural Training Centre and Seed Bank, on Isle of Bute.  The project will explore the rich history of Bute potatoes, develop a growing area for Bute heritage varieties, and providing training and learning opportunities to increase our understanding of heritage horticulture skills.
The project plan can be accessed here.  Project_Plan Bute Potato Heritage  Please check out our Bute Produce blog , Facebook Page , watch the video at YouTube and follow us @TZCB for updates, events and activities.
This project has been successfully completed.  To read evaluation report please click HLF Evaluation Report v0.1