We are proud to announce that this year the recycling team at Fyne Futures were finalists at the 2018 Awards for Excellence in Waste Management. The team were nominated in the category of 'Best Community Recycling Initiative' and were one of only four finalists recognised nationally.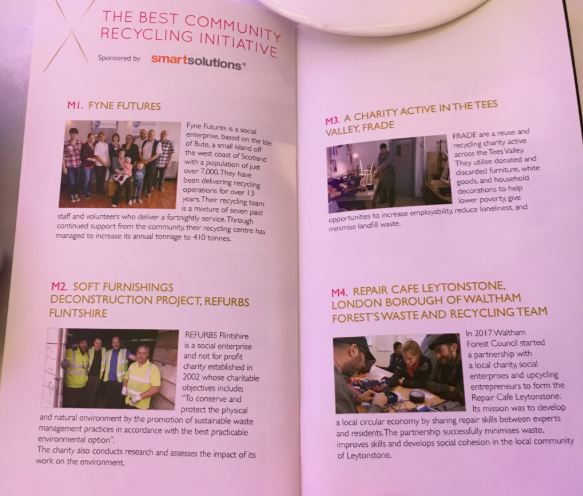 The awards took place on 10th May 2018 in London and the ceremony stands as a way to recognise the achievements of social enterprises, community recycling projects and waste disposal businesses to delivering high quality recycling  services. These included projects such as re-use, recycling, composting, education, minimisation and associated activities.
The category of 'Best Community Recycling Initiative' is judged on the commitment shown and the achievements made. On the day the award was given to a soft furnishings project from Flintshire; 'Refurbs', who have similar charitable objectives to us and work in the same way as ReStyle.
Fyne Futures would like to extend our warm congratulations to Refurbs, and many thanks to those involved with the Awards for Excellence for inviting us. Our thanks too go to our community for their continued support.