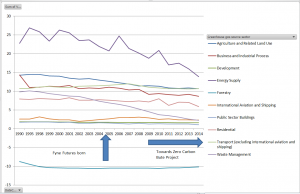 It is over 12 years since Fyne Futures was constituted, born from Bute Waste Watchers, the enterprise has grown from offering recycling of can to provision of a range of low carbon services and products.
Isle of Bute has seen many improvements and advances, and a few challenges, over the last decade which have contributed to reduction of our carbon footprint.  Housing standards have improved, with increased energy efficiency and use of renewable technology.  Renewable energy generation for both electricity and heat has grown from zero installations to every type of technology being represented.  Householders and small businesses have changed their behaviours to reduce energy consumption.
Active travel has increased with more people walking and cycling.  Car Bute has operated successful for 6 years, encouraging both residents and visitors to think about car use.
We have switched our thinking from waste management to resource management.  Recycling levels are continuing to increase and reuse options are wide, varied and very much on trend.
Thank you!