The festive season is now close at hand, and the Bute Carbon Free Food project has entered its third event. During this event we were introduced to a series of seasonal tasty dishes, and
our event was hosted by local caterers Smith and Gray. They welcomed us, speaking about how different faiths use seasonal produce in different ways during their celebration periods to create a selection of dishes. We were then treated to a selection of their prepared examples as they spoke about the different ingredients involved.
Whilst many of the ingredients might have been seasonal in countries where they may have originated, some of the ingredients had to travel much further. This principle of 'food miles' was on display visually also, as our seasonal signage prompted. Many of the different faiths were able to use the same foods in different, creative ways.
Potatoes for example appeared in several different dishes, and these were one of the crops that could claim a home directly upon Bute, as our heritage potato story told. By comparison, saffron featured in one dish and had travelled a very long distance, producing an extremely high carbon 'foodprint'.
The pair were able to demonstrate the following faiths: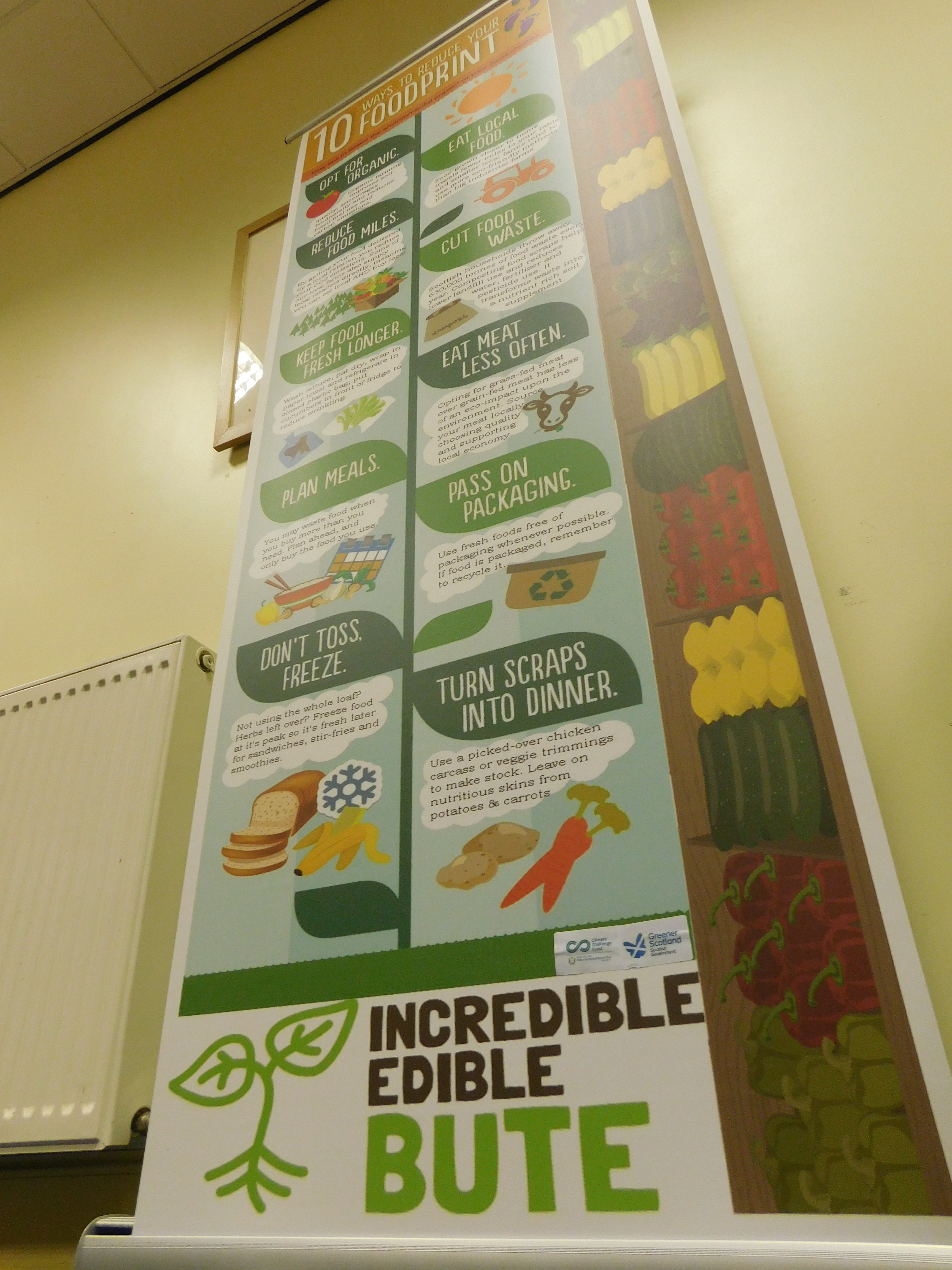 Buddhism – Bodhi Day – usually beginning on 8th December, it celebrates the day that Buddha found enlightenment whilst sitting under a fig tree. This food festival centres around milk, rice and figs.
Christianity –  Santa Lucia – takes place on or around 13th December, a Scandinavian festival celebrating the Saint of Light, also celebrated in parts of Italy. In Sweden children dress in long white gowns. The girls have a wreath of leaves with battery operated candles for light and the boys carry a light on the end of a stick. Foods to celebrate Santa Lucia are saffron buns and ginger biscuits.
Divali – A hindu festival of light that starts about 7th November and celebrates the spiritual victory of light over dark, good over evil, knowledge over ignorance. Traditional divali foods are samosa, barfi (Indian sweet made of milk, sugar and nuts), aloo tikki (potato and pea bites) with pomegranate sauce.
Hanukkah – A Jewish holiday. Hannukah is Hebrew for rededication and is another celebration of light. This year Hannukah starts on 2nd December. It takes place for eight days, symbolised by 8 candles in a special candlestick. Foods eaten during this time are latkes (potato and onion fritters) with sour cream and apple sauce, and gelt cookies. Gelt are made with oats flavoured with cinnamon and are decorated with a chocolate coin.
Krampusnacht – Night of Krampus, 5th December, a pagan festival popular in Central Europe. In folklore Krampus is a horned figure, half goat, half demon. He punishes naughty children and is the opposite to St Nicholas who rewards good children. Festive foods include sausage and apple stuffing, red cabbage and potato dumplings, German cucumber salad.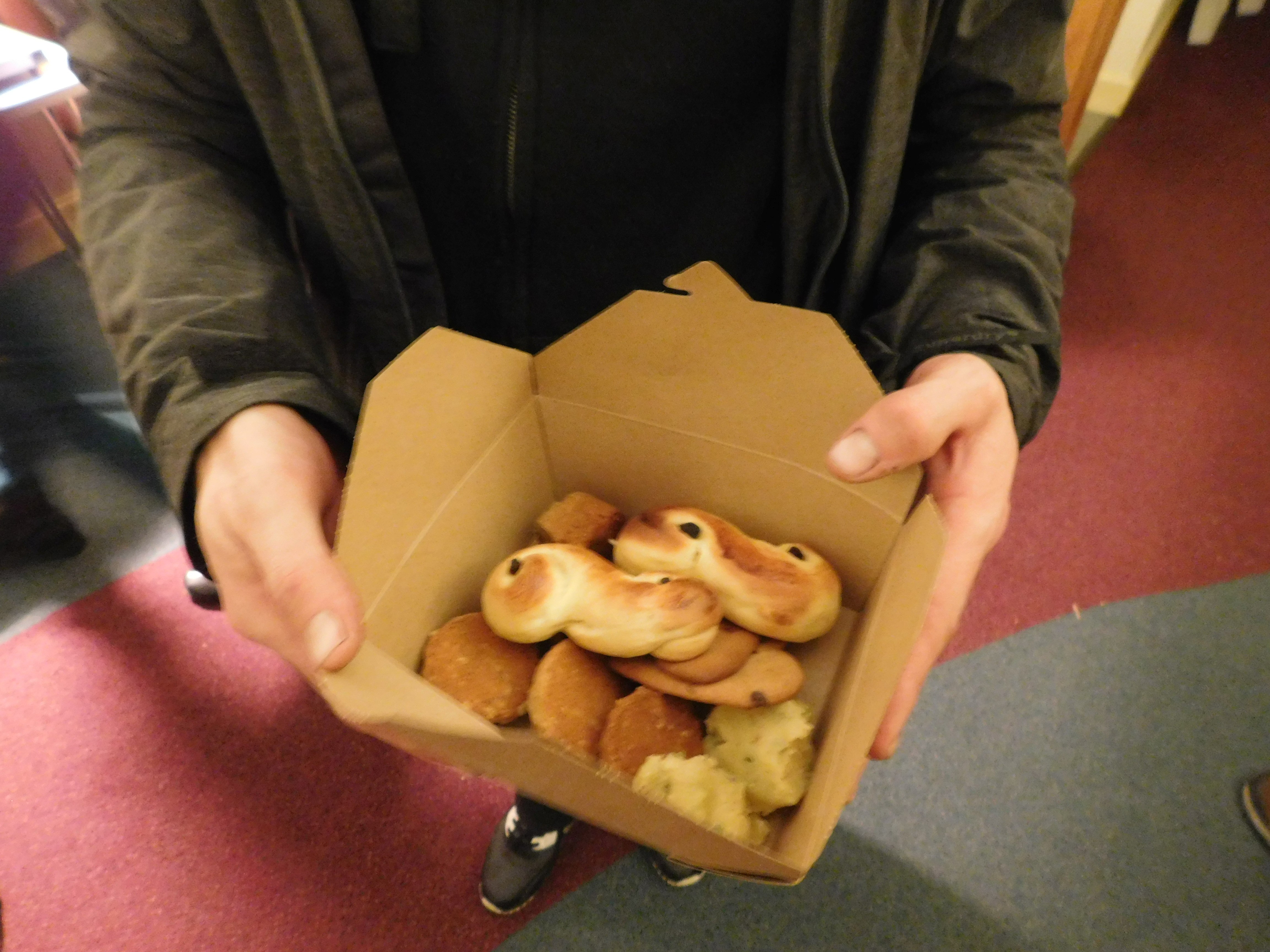 The event was very well attended and well received by all, and there was even a little food left over at the end. Never fear though, as most of those present took away a small something to share with others or to nibble on later using our 'good to go' boxes [right]. In this way we were able to significantly reduce any food waste.
Below you will see a selection of the photos taken at the event.
The next event is due to take place on 16th January and is intended to lead with the topic of 'Nutrition for health'. It will take place in the same venue, Green Tree cafe at 6.30 until 8pm.