April was the launch of Bute 360 Supply Chain project, funded by Climate Challenge Fund.  The project will take a look at how we can have a "closed loop" system for fresh local produce.  The very wet and cold spring have had their impact on the project however a lot has been achieved during the first 3 months.
Composting area set up
Grow Your Own Workshops
New work-based trainees recruited
And lots of learning
April was all about planning and mapping the composting infrastructure at Bute Produce site.  Thinking about how access and egress from the site would work, what would be needed to ensure we weighed and recorded the materials being brought in and finally the methodology employed for each form of bio-degradable waste.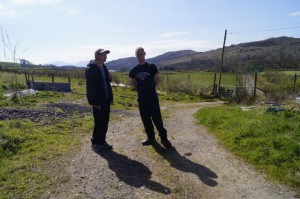 During May further infrastructure work was hampered, but not halted, by the weather.  Argyll & Bute Council kindly donated the food caddies to support our food waste collection pilot.  We visited Kibble, Paisley, to gain greater understanding of the rocket composter especially how we would ensure efficient use of the kit.  Kibble are progressing with set up of a new growing space so there was plenty of knowledge exchange.
The visit to Kibble, combined with support from Community Composting Network, enabled procurement of the right support materials and weighing equipment for the composting area.  The booking in shed was built, and processes and systems put in place, along with a new turning circle.  SEPA provided extremely useful support to ensure we operate within current legislation.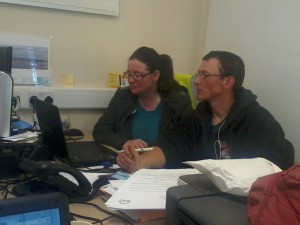 782 tonnes of bio-degradable waste shipped off Bute to landfill each year, contributing to the island's footprint and costing us all a hefty bill landfill tax bill.  It seems such a simple solution –  grow fresh food on the island; collect food waste from local households; compost it at market garden; use compost to grow fresh food.  Yet there is so much to take into consideration when implementing the solution.  It is going to be an interesting year as we discover how bio-degradable waste can be turned into a valuable resource for our social economy.