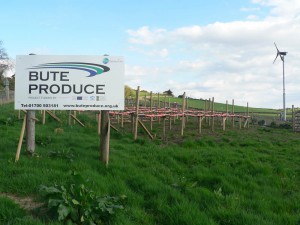 Bute Produce, officially opened September 2009, as a healthy eating initiative with environmental aims of reducing food miles. This was one of the first projects that Towards Zero Carbon Bute supported with Climate Challenge Fund monies.  The current project was successful in gaining Argyll & Islands European Leader and Highland & Island Enterprise support, May 2011, to focus on developing our 6-acre site into to a market garden and delivering employability skills for long term unemployed and young people. Bute Produce now has a 'Veg Shack' on site as well as our Green Box Delivery Scheme and offering a bespoke box service. This project ended September 2013. We also own and manage 'Jenny' a 6kw wind turbine at the Site, which provides a small additional income stream.
Today Fyne Futures Bute Produce has received £60,900 from the Heritage Lottery Fund (HLF) for an exciting project, Bute Heritage Horticultural Training Centre and Seed Bank, on Isle of Bute.  The project will explore the rich history of Bute potatoes, develop a growing area for Bute heritage varieties, and providing training and learning opportunities to increase our understanding of heritage horticulture skills.
The project will enable local school children to be involved as researchers, and have the opportunity to get involved in more practical activities.  Volunteers will be able to exchange knowledge and receive practical training in the art of seed banking.  The project secure one full time position at Bute Produce and supports creation of 4 work based training opportunities.
Reeni Kennedy-Boyle, General Manager of Fyne Futures says "It is a great opportunity for Bute Produce to develop further as a training centre for horticulture.  We have supported many volunteers and employability trainees since opening, this project will take us to a new level by offering volunteering opportunities and work-based training that leads to recognised accredited qualifications."
Commenting on the award Ronnie Armstrong, Senior Horticulturist at Bute Produce is "I am really excited to be leading this heritage project, particularly learning about harvesting seeds to build stock of a local Potato variety that is extremely rare – Bute Blues."
Colin McLean, Head of HLF Scotland said "This is an engaging project which will actively involve people in our natural heritage. Volunteers will have great fun while learning about Bute potatoes, their role in our biodiversity and how we can make sure they exist for future generations. HLF is delighted to be able to help people connect with the natural world."
About the Heritage Lottery Fund
Using money raised through the National Lottery, the Heritage Lottery Fund (HLF) sustains and transforms a wide range of heritage for present and future generations to take part in, learn from and enjoy. From museums, parks and historic places to archaeology, natural environment and cultural traditions, we invest in every part of our diverse heritage.   To date it has invested over £500 million in Scotland's heritage. Website: www.hlf.org.uk